It Takes One
to Start
the Change
Act To Transform
Arise, awake, and stop not till the goal is reached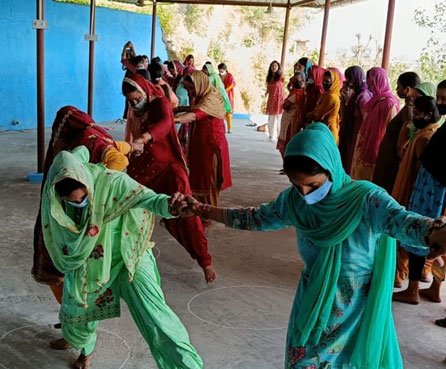 About Us
Inspired by this mantra of Swami Vivekananda the Act to Transform Foundation is thriving to create and implement high impact social programs aimed at transforming the communities involved and as a result our nation. We intend to embark on a new generation of groundbreaking work to create a lasting impact on the ground.
Read More
Key Area of Operations
We Believe, We Can!
Awareness
Spreading awareness among people of all age groups and genders
Empowerment
Empowering individuals from all walks of life
Progression
Acting as a catalyst to connect the right dots to accelerate the progression process
Enablement
Connecting talent with opportunity to enable people to become self-reliant
Events
"
Ek Se Sreshtha is very special for me. I not only find joy in spending time with the kids, I have also started getting recognized in my locality for teaching the kids. This further encourages me to go an extra-mile and see as to how I can teach more effectively. It is immensely satisfying when you see these kids progress every day
Mrs. Sumina
, Ek Se Sreshtha Teacher
"
This is a great initiative against commercialization of education. Many of the children coming to my center are children of farmers and labourers, for whom, free education service for the children is a big support. The children are also provided with all the required stuff like notebooks, stationery, books, clipboards, pencil boxes etc. And the whole program is being implemented in a very systemantic manner, with the teachers being provided attendance registers, white boards, chairs etc.
Mrs. Babita
, , Ek Se Sreshtha Teacher
"
The 'Ek Se Sreshtha' centre is a blessing in disguise for the students of our village. It has created an atmosphere of learning as now monthly meetings happen where all of us sit together and discuss about the education of our children and get progress update of our kids from the teacher. Even the children are very excited and emphasise on going to the centre even on the holidays. All the parents in my neighbourhood are really happy with this since not everyone is so well educated that they can teach their children also the program has reduced the financial burden of education as well.
Mr Jeet Singh
, Father, Ek Se Sreshtha student
"
I am grateful for the valuable support that we are getting from 'Act To Transform'. Our school has received holistic support from the organization, covering both the aspects - infrastructure & learning. A multi-purpose shed was constructed which is being used for mid-day meals and other school activities. Then the sheds constructed in the staircase and the corridor have helped students move between the classes and to the toilets comfortably even during the rain. Otherwise, the students used to fall sick by getting wet. Then the organization even organized some important sessions in our school such as on Youth Skills, Menstruation & Emotional Intelligence. My request is that more such sessions be conducted in our school.
[Mr. Rajneesh rangra
, Govt. School principal
You too can be a part of this transformation and contribute towards the initiatives. 
Anyone and everyone who is willing to spare their Saturday's, open to travelling to remote villages and have compassion & passion to serve the society, are welcome to join us and work towards making an impact!
"Any society that does not succeed in tapping into the energy and creativity of its youth will be left behind"
Apply To Volunteer With Us